An electronic cabinet lock is an efficient and robust way to secure your belongings in your offices and homes. It gives you an effective way to remotely control access to your important documents kept in the cabinet and takes away the hassle of key management, making cabinet security simple and foolproof.
What are the types of electronic cabinet locks?
Electronic lock manufacturers have designed various smart locks for cabinets that are equipped with the latest technology and provide complete security. Here is a list of different types of smart cabinet locks.
1. Electronic Keypad Cabinet Locks:
A keypad is used to input a code to unlock the cabinet. They are commonly used in offices and homes for secure storage.
2. RFID Cabinet Locks:
These locks use radio frequency identification (RFID) technology. You can unlock the cabinet by presenting an RFID card or using a compatible device.
These locks connect to Bluetooth-enabled devices like smartphones. A smartphone app can be used to unlock the cabinet.
4. Biometric Cabinet Locks:
These locks can be accessed by using biometric data, like fingerprints. They are highly secure and often found in government or high-security settings.
5. Electronic Cam Locks:
These are electronic versions of traditional cam locks. They are operated with a key or code and are suitable for cabinets, drawers, and lockers.
6. Wi-Fi-Enabled Cabinet Locks:
This smart lock for cabinets connects to a WiFi network and allows you to access your cabinets remotely. Users can lock or unlock cabinets from anywhere with an internet connection.
7. Smart Cabinet Locks:
These locks encompass a range of electronic features, such as remote monitoring, access logs, and integration with smart home systems.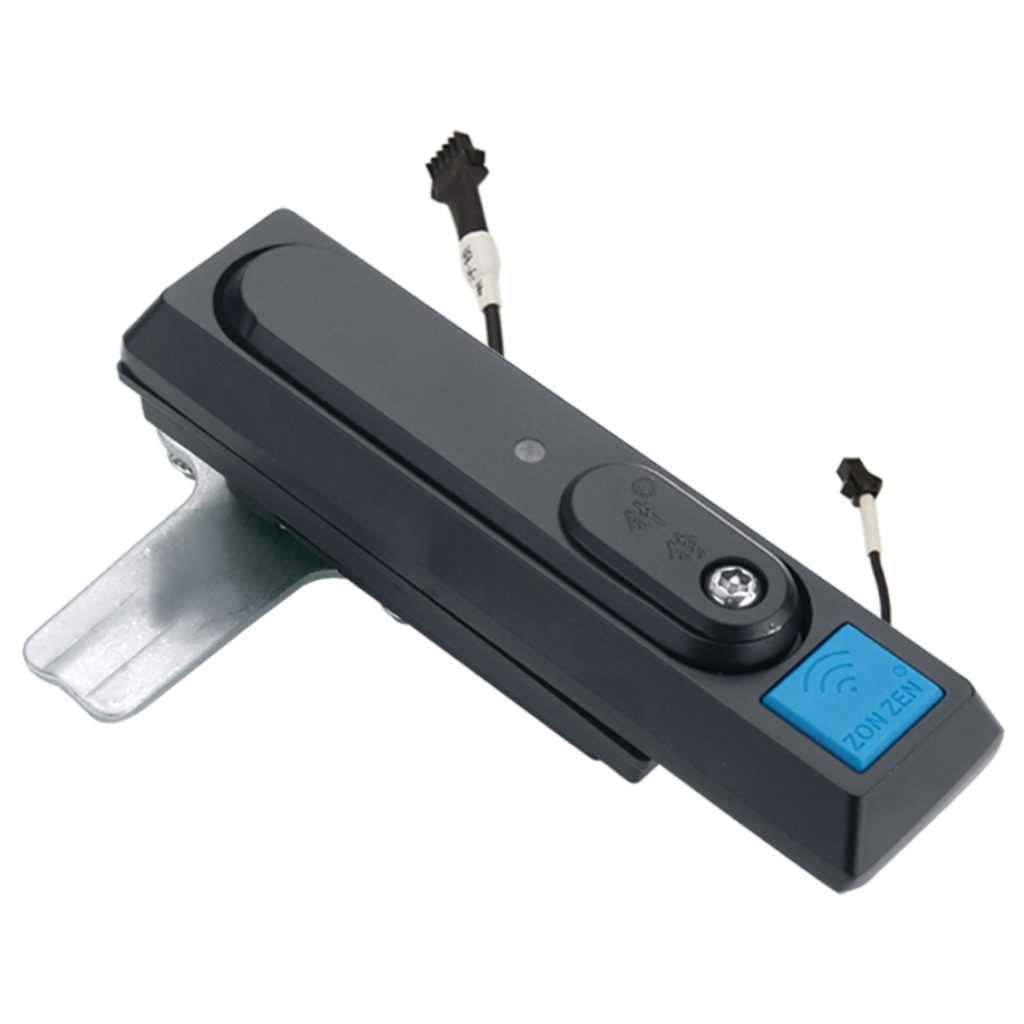 What are the Advantages Of electronic cabinet locks?
Electronic cabinet locks come with numerous features and benefits. They are more secure and easy to use. Here are some advantages to these locks.
Extra security: Electronic cabinet locks offer advanced features like encryption algorithms, anti-tampering mechanisms, and smart authentication methods. It is very difficult for anyone to tamper with the locks and steal from your cabinet.
Easy to use: Electronic cabinet locks are easy to use, and non-contact IC card reading and writing is very simple. You do not need to fix the direction and position, making it easy to use, and you can conveniently share data with someone if required and otherwise keep it secure.
Customizable: Electronic cabinet locks are easy to customize, and you can set and change codes all by yourself without the need for a locksmith
Easy Integration: These locks can integrate with your smart devices and your phone and can be accessed from anywhere. You can also monitor if anyone is tampering with your lock and trying to access it.
Is It Safe To Use Smart Cabinet Lock?
Electronic cabinet locks are loaded with modern technology, including biometrics, RFID, and wifi control. Artificial intelligence is used to program these locks to provide enhanced security and remote monitoring. These features have made these electronic locks smart cabinet locks.
The smart cabinet locks are encrypted for added privacy. They provide superior access control. Unique access codes and seamless integration with other security systems make them very safe to use.
You can use your phone or smart devices to track who accessed the cabinet and when. Anti-tampering mechanisms make smart cabinet locks a powerful security system for homes and offices.
Zonzen: A professional electronic lock manufacturers
ZonZen is an experienced and quality manufacturer and supplier of smart cabinet locks. We believe in "taking quality as the foundation, technology for development, reputation for survival, and service to win customers". ZONZEN specializes in the production of all kinds of smart locks that are highly suitable for office and home cabinet use.